Audi is feeling rather proud of itself right now, declaring that its new Q2 heralds the arrival of a new market for compact luxury SUVs. Jonny Edge was at the Audi Q2 UK launch for Car Write Ups.
Audi Q2 – Market
According to Audi, this segment doesn't exist at the moment, but with the new Audi Q2 it says it is the first manufacturer on the scene to provide a vehicle for people seeking the latest hot tool for their everyday lives.

Audi Q2 – Looks
First impressions when approaching the new Audi Q2 are good. Like all Audis, it manages to stand out, even if it doesn't try anything spectacular design-wise. In the more daring 'Vegas Yellow', it makes quite a visual impact though, and is unmistakeably Audi in appearance. The large grill and muscular body are complimented by a sloping roof line and contrast C-pillar which – in S-Line trim at least – is nicely offset in metallic silver. Sadly, on the smallest alloy wheels it looks puny, so bigger is definitely better there.
Audi Q2 – Inside
The interior is more of the same from, being almost identical to that which you'd find in the A3 hatchback. That's no bad thing though, as Audi makes some of the most pleasant interior spaces on the market today, and feels decidedly upmarket if it's kitted out with a range of technology options such as the virtual cockpit.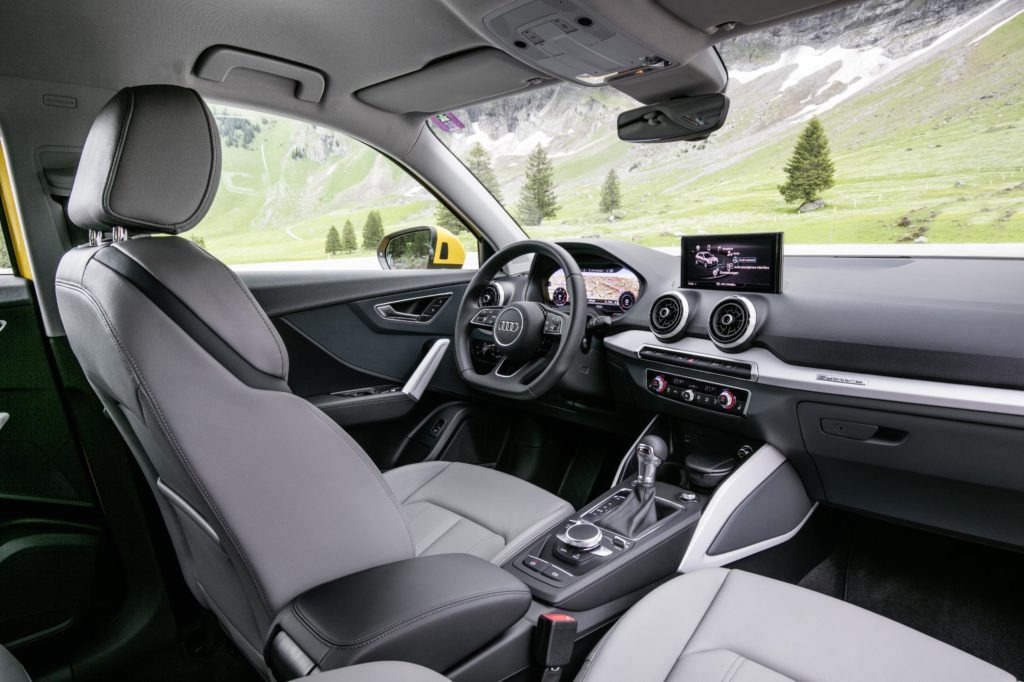 Audi Q2 – On The Road
We tested two new Q2's, starting with the 150PS 1.4-litre petrol engine. It provides plenty enough power for all types of road, being capable of overtaking on motorways and A-roads, yet remaining suitably quiet when pottering through towns and villages. If your annual mileage is quite low, this is a fine engine to go for, as you're unlikely to need anything more than this. While the engine is quiet, the S-Tronic automatic gearbox is a little jumpy at low speeds, and tends to put too much torque through the wheels when trying to move off. This results in some minor wheel-spin. The S-Tronic unit has never quite been up to the high level of BMW's eight-speed unit, but it is far from a bad gearbox, and, when up to speed, works quickly and seamlessly.
Audi Q2 – Petrol
Our petrol test car was the S-Line fitted with sports suspension and larger alloy wheels, and we found it to be slightly too firm for our liking. Being a 'Q', you get into it expecting a smooth ride, but you get something far similar to a firm hatchback than a compact SUV. We suspect Audi's excellent seating helps offset this a little. If the trade-off was entertaining cornering and impressive dynamics, we'd be content, but it isn't exactly fun to drive either. The steering is rather numb and it doesn't feel particularly settled going quicker around corners, though it doesn't feel out of its comfort zone either.
Audi Q2 – Diesel
It is perhaps better sampled in its diesel form. Diesel engines always feel a little bit more suited to SUVs, even ones as small as this. The pick of the bunch – as with all VAG products – is the 2.0-TDI, but we took the opportunity to try the 1.6-litre TDI. With only 116PS you'd expect it to feel a little gutless, and while it doesn't exactly give you much in the way of performance, it does at least do a good job at the point this car is most comfortable at. Around town, under 50mph, this engine is perfectly suitable for the job and the six-speed manual gearbox is decent too. So, not exactly spectacular then? Well, no, but good enough for most people we suspect.

Audi Q2 – Tech
Audi was keen to point out that it doesn't skimp on technology with the new Q2, it uses the same tech in the fresh compact SUV as it does in its higher-end products, like the TT sports car or Q7 SUV. The stunning virtual cockpit is an option once again, and you can also get such goodies, such as adaptive cruise control, heated seats, a power operated boot, and Audi's parking assistance system. The problem is, almost all of these luxuries cost extra. Audi has made a big deal of the new Q2 starting at under £20,000, yet it also points out that it expects only 10% of people to buy the lowest 'SE' trim level. The petrol model we tested came in at £5 over £34,000, and, even for a test car, that's an astonishing amount of money.
Audi Q2 – Verdict
Look to spend between £25,000 and £30,000 and you're probably on the right track with the new Audi Q2. It's a high-quality product and looks great, but it doesn't inspire us into spending more on it than a normal Audi A3, and the Q3 SUV isn't far off price-wise. That being said, it doesn't matter one bit what we think, because wealthy people love something a little bit different with a respected badge on its nose. It might not be perfect, but it will sell, and sell well. The new Q2 is going to be another Audi success.

Our Rating: 3/5