From the monthly archives: February 2012
IF BUSINESS is the engine that makes the world go around, then company cars provide the wheels that allow it to turn.
Nearly every aspect of business life requires transport and the car is the only flexible, dependable, option available. It can also be used as an appealing offer to attract new staff.  So, here […]
Continue Reading

→
THIS IS a comfortable car. During my time with the Chrysler Delta I drove it on all sorts of roads – motorways, A roads, B roads, farm tracks – you name it. Afterwards, I always felt free from aches and that 'numb bum' sensation you can get after long stretches behind the wheel.
[…]
Continue Reading

→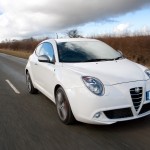 THIS LITTLE ITALIAN car can be summed up in one word: elegant. I will, of course, go on to write more than a word about the Alfa Romeo MiTo because, quite frankly, that's what I'm paid to do; but also because it deserves lots more to be said about it.
Launched in the UK […]
Continue Reading

→