IF YOU are one of the lucky few who have just been given a pay rise or your business has just won a new contract, why not indulge yourself this Christmas and order that new car you have always wanted? One or two of the following cars might do nothing more than put your imagination into overdrive, but there is nothing wrong with wishing for good things to come your way – especially at this magical time of the year.
 Chevrolet Camaro
The Chevrolet Camaro has already got lots of motoring devotees drooling and with the advent of the car in the UK soon, it is bound to be a number one hit.
Arriving in showrooms just after Christmas, the American muscle car will be available from around £35,000 on-the-road. For that you will get a 6.2-litre V8 engined performance icon, with 426 bhp and suspension fine-tuned for our roads.
Available in left-hand-drive only, all British versions of the Camaro will be the top specification model, with 20-inch alloy wheels, Brembo performance brakes, full leather upholstery with a six-way power adjustable driver's seat, a Boston Acoustics nine-speaker audio system, Bluetooth and rear parking sensors.
Options will include a choice of premium paint colours, interior trim accents, a sunroof, polished alloy wheels and automatic transmission, which will cost £1,500 extra.
 Ferrari 458 Spider
2012 will see the 458 Spider join the 458 Italia on UK roads, widening the range of Ferrari's mid-rear engined V8s and offering the same technological solutions, handling and performance in a refined open-top arrangement. It is equipped with a fully retractable hard top – a world first for a sports car with this layout.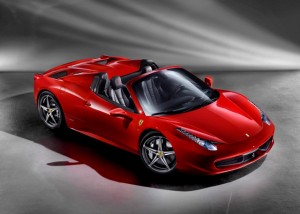 The 458 Spider has a price tag of just under £200,000 and is powered by the Italian sports car maker's naturally-aspirated, direct-injection 4.5 litre lump. The powerplant was nominated as the 2011 International Engine of the Year for its engineering excellence in terms of driveability, performance, economy and refinement.
Certain features, such as its accelerator pedal mapping and the damping of the multilink suspension, have been calibrated to guarantee maximum sportiness and absolute driving pleasure with the top down. Even the engine soundtrack has been cranked-up to ensure that you are completely captivated by the open-top driving experience.
For maximum comfort whilst driving top down the 458 Spider features a generously-sized, adjustable, electric wind stop. The design was perfected to slow and diffuse the air in the cockpit, enabling normal conversation to be held even at speeds well in excess of the British legal speed limit.
The result is a car that is truly electrifying to drive, blending extreme performance with the responsiveness that has always characterised Ferrari's open-top berlinettas.
Mercedes-Benz C 63 AMG Coupé Black Series
The Mercedes-Benz C 63 AMG Coupé Black Series, which will reach the UK market in the spring, is the most powerful C-Class of all time. The 6.3-litre V8 engine astounds with its hefty torque, tremendous pulling power and responsiveness, and ensures high-calibre performance.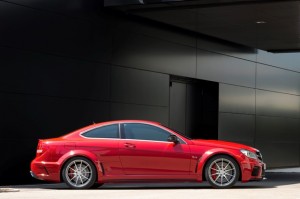 Broad, low, brawny and ready to pounce – even at a standstill – this AMG Coupé certainly makes an impression. It is clear right from the first time you set eyes on it that this mighty machine means business.
The car accelerates from zero to 62 mph in 4.2 seconds and fun at the wheel comes courtesy of the adjustable AMG sports suspension, high-performance braking system and advanced standard equipment. In visual terms the new vehicle is reminiscent of the SLS AMG GT3 customer sports car and symbolises the transfer of technology from the sphere of motorsport.
The C 63 AMG Coupé Black Series  is, without doubt, an exciting car for enthusiasts who are passionate about sporty, high quality models which are big on horsepower, and it marks the impressive continuation of the Black Series strategy, which began back in 2006.
AMG, the performance brand of Mercedes-Benz Cars, is once again demonstrating its expertise when it comes to designing and developing emotionally appealing 'high-octane' cars. Expect this mighty Merc to have a price tag of around £100,000.
 Lexus GS
Lexus' new GS brings a more engaging driving experience and a bolder design, heralding a fresh chapter in the history of Toyota's luxury brand.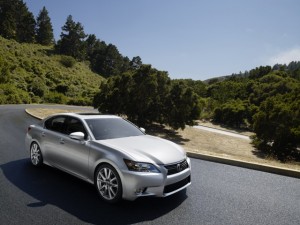 With a bold spindle grille – set to be a signature feature of future Lexus models – the GS conveys an air of confidence. This is supported by a redesigned chassis with a wide, strong stance that clearly signals the GS is designed to inspire and reward you with crisp and precise handling.
Lexus engineers challenged themselves to develop a roomier inner environment for the latest GS. Leaving exterior dimensions virtually unchanged, they increased cabin and boot space to create a richly appointed interior that will transport you and your luggage in comfort, regardless of distance.
The latest Lexus GS will be launched in Britain early in the New Year, including hybrid and F-Sport versions. No pricing has been announced but with the existing GS costing upwards of £44,615, you will almost certainly see the new version start in the region of £45,000.