MGMW Green Apple Awards 2011: Golf romps home as fun to drive eco-champion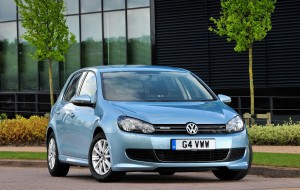 VOLKSWAGEN'S GOLF 1.6 TDI BlueMotion has been voted the overall winner in the first of a new set of awards for cars that mix modest thirst with the ability to entertain their drivers.
The Green Apple Award was presented on Monday (14 November) at the House of Commons. They are organised by the Midlands-based The Green Organisation and were judged by members of the Midland Group of Motoring Writers.
Midland Group chairman Ian Donaldson said: "When The Green Organisation asked us for our current green champions we wanted to go further than some other awards and look beyond the official figures and rank our favourites in the real world, taking into account how they performed in our hands.
"We also pointed out to our voting members: 'As keen drivers, we rate cars on more than simple on-paper figures. Some cars can be both economical and good to drive. We'd like your decision to reflect that too.' "
The eco-friendly Golf polled many more votes than any other car. And a worthy winner it is too, with one judge commenting that he recorded 82mpg on one leisurely motorway trip and 57mpg on the way home, going as quickly as prudence allowed. He also loved the way the Golf is classy but classless.
Another judge said: "It's a Golf with a definite conscience", while another thought 'It really does work. Out of all the cars here, the Golf BlueMotion is the most impressive all rounder and returns amazing economy figures in practice – while also remaining exceedingly practical and good to drive."
The awards were handed over by Chris Hopkins, founder and managing director of Ploughcroft, on course to become Britain's biggest solar panel installer after a successful appearance on The Dragons' Den, where two of the Dragons bought into his ideas for expansion.
MGMW Green Apple Awards results in full
Small family cars:
The winner is the Nissan Leaf, which went on sale in the UK early this year and is perhaps the first all-electric vehicle to enjoy mainstream motoring status.
One Midland Group judge chose the Leaf "because… the way things stand at present, it's the way forward, and ticks pretty well all the boxes." A fellow judge added: "It may have limited range and cost a lot to buy but a short drive will convince anyone this could be the way ahead for urban family motoring."
Larger family cars:
BMW's amazingly economical 320d had enough honourable mentions to make it into second place, with one judge commenting on the car that it's "Eco when you want it, with plenty of power if needs be."
But there was only one winner, with a massive percentage of votes. That car was the Volkswagen Golf 1.6 TDI BlueMotion.
Smaller SUVs and 4x4s (all with CO2 below 150 grammes):
The Midland Group members wanted to show that not all SUVs or off-roaders need to be gas guzzlers. Indeed, more and more, they are simply great cars to drive without giving owners a bad conscience.
The winner is the Skoda Yeti E 2.0 TDI CR. Our judges commented: "You get a lot of car for the money, and this is actually that rare beast – an SUV with luggage space" and, from another judge "I've chosen it because… it does everything you need a car to do. And I want one…"
Coupes and Cabriolets:
The comfortable winner is the Fiat 500C TwinAir. One judge said: "It's the most fun to drive of this lot. Rev it to hell and it's like driving your old Morris Minor. Be gentle and you can hit 70+mpg with ease and be close to 60 in everyday use. Sounds brilliant as well."
Luxury cars:
The Midland Group's final category looks at the sort of car lots of us would drive if we could afford one. And when we win the Lottery, it's good to know there are now many luxury cars on sale which use clever engineering to minimise their impact on the planet.
There was no doubting the winner, in the home grown shape of the Jaguar XJ 3.0D Luxury. One judge stated: "I've chosen it because if you want an unbeatable combination of style, substance, luxury and great whole life green credentials the Jaguar just cannot be beaten. Whilst its figures on paper may not seem as good as some of its competitors, its production methods and real world driving credentials put it ahead of rivals."