If you're into car leasing, you'll know good quality motors are distinguishable immediately. Even if a classy car has its logos ripped off, all you need to do is sit inside. Right away you feel the difference between a 'run-of-the-mill' vehicle and a refined one. The latest Mercedes-Benz A-Class is a good example. Inside, it's sumptuous.
Mercedes A-Class – User-Friendly
The German car-maker is renowned for its refinement, but the Mercedes-Benz A-Class is pretty much the runt of the Mercedes line-up – and therefore you might assume it is less well developed outside and in. But to assume makes an 'ass' out of 'u' and 'me'. Get it? It may well have been the case when the old A-Class first emerged on British roads. It was erect, cautious and uninteresting. It certainly wasn't a ride you'd longed to lease or buy all your life. Even so, the initial A-Class did sell – and that's because it was inexpensive – for a Mercedes-Benz – and user-friendly for parents on the school-run who were eager to drive up to the school gates in a Mercedes.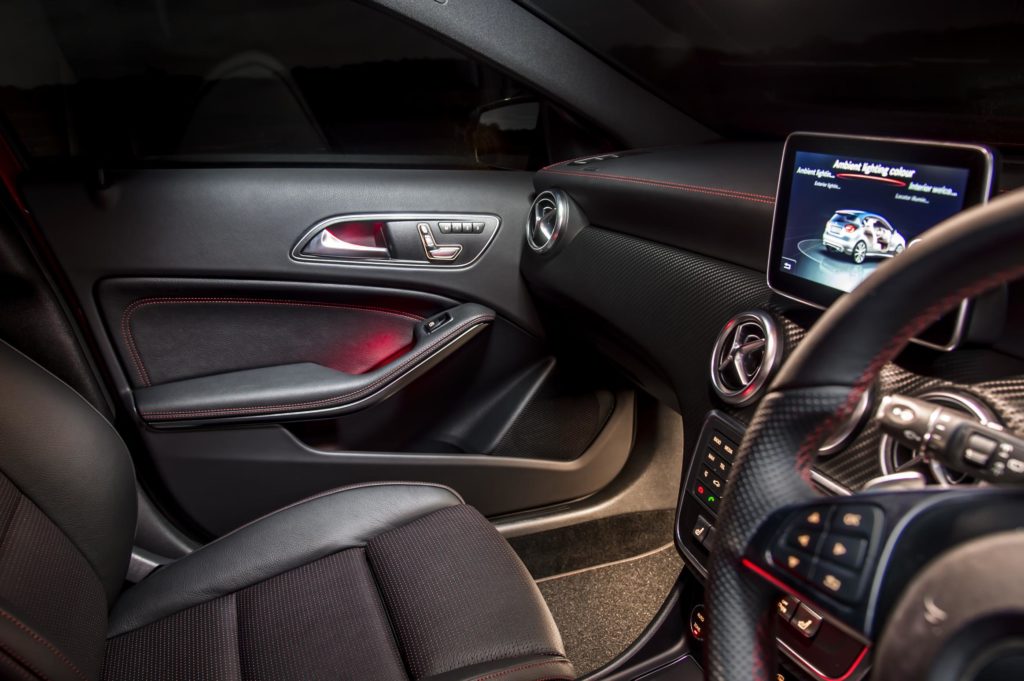 Mercedes A-Class – Reinvented
But then in 2013 the Mercedes-Benz A-Class was entirely re-invented. It trundled off the production line a radically different vehicle – not just one that had endured plastic surgery – it was worlds apart from the previous version. The Mercedes-Benz A-Class is now genuinely charming and it's a motor you'll desire because of its attractive aesthetics. In some ways, it's lost its straightforward sensibleness because the load area, although handily rectangular, is nothing to write home about room-wise. But that's no deal-breaker, because today's Mercedes-Benz A-Class will arouse you – particularly if you opt for the A 200 d Sport Premium Plus DCT.
Mercedes A-Class – Diesel Power
This is a driver's car and comes with all the bells and whistles, including sports suspension, a dynamic handling package and cruise control. As well as this, the Mercedes-Benz A-Class has energetic body-styling and a fiery turbo diesel unit capable of 70.6mpg. It also has sporty seats, ambient lighting and a sound system boy-racers would be envious of.
Mercedes A-Class – Performance
On the move, the Mercedes-Benz A-Class' diesel powerhouse propels you to a good speed hastily, but not overdramatically. Zero to 62mph arrives in 8.8 seconds and traction is prodigious. The steering is precise and well-weighted, and the seven-speed dual clutch automatic transmission changes gears impeccably.
Mercedes A-Class – Multitalented
The Mercedes-Benz A-Class, in this guise, has the punch that's required to throw its weight about in a motoring market that's highly competitive. It's a multitalented performer and just the model that Mercedes-Benz needs to entice new customers into Mercedes leasing.
PROS 'N' CONS
Sporty √
Attractive √
Grip √
Efficiency √
Boot X
 FAST FACTS
Max speed: 130 mph
0-62 mph: 8.8 secs
Combined mpg: 70.6
Engine: 2143cc 4-cylinder turbo diesel
Max. power (PS): 136
CO2: 103 g/km
Price: £29,050