Reliability king, Mazda, has updated its popular Mazda 3 model. Motoring journalist, Tim Barnes-Clay, was at the 2017 Mazda 3 launch in Aberdeen.
2017 Mazda 3 – Looks
The medium-sized family motor comes in Hatchback or Fastback guises, and it now has a somewhat revised face, a fresh cabin and swankier hidden from view tech.
2017 Mazda 3 – Power
Pull is supplied through a 1.5 diesel power plant, producing 105PS and a burlier 150PS 2.2 oil burner. In addition, there are two petrol-propelled engines with 120 and 165 horses under the bonnet.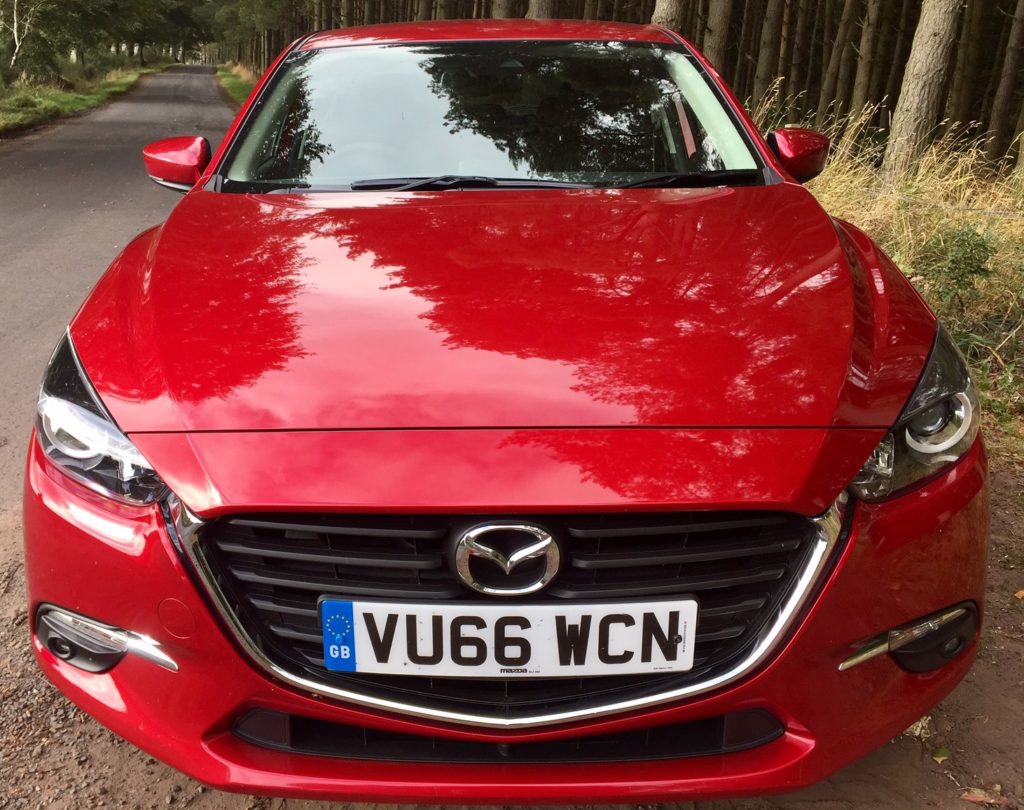 2017 Mazda 3 – Quieter
The diesel units have been made to all but eradicate that common diesel commotion on start-up. Quelling the clatter has made an important difference to the Mazda 3's driving experience. Add in some further vibration damping and the Japanese car now feels silkier on the road. Indeed, finesse is now on a level with Audi's A3 and comparable 'premium' hatchbacks and saloons.
2017 Mazda 3 – Cabin
The new Mazda 3's interior has had more done to it than anything else. It has been given the cabin of the mighty Mazda 6 and is therefore better quality than the departing Mazda 3. The switchgear and dials are now easier to scan and use, and the established manual handbrake has been exchanged for an electric one.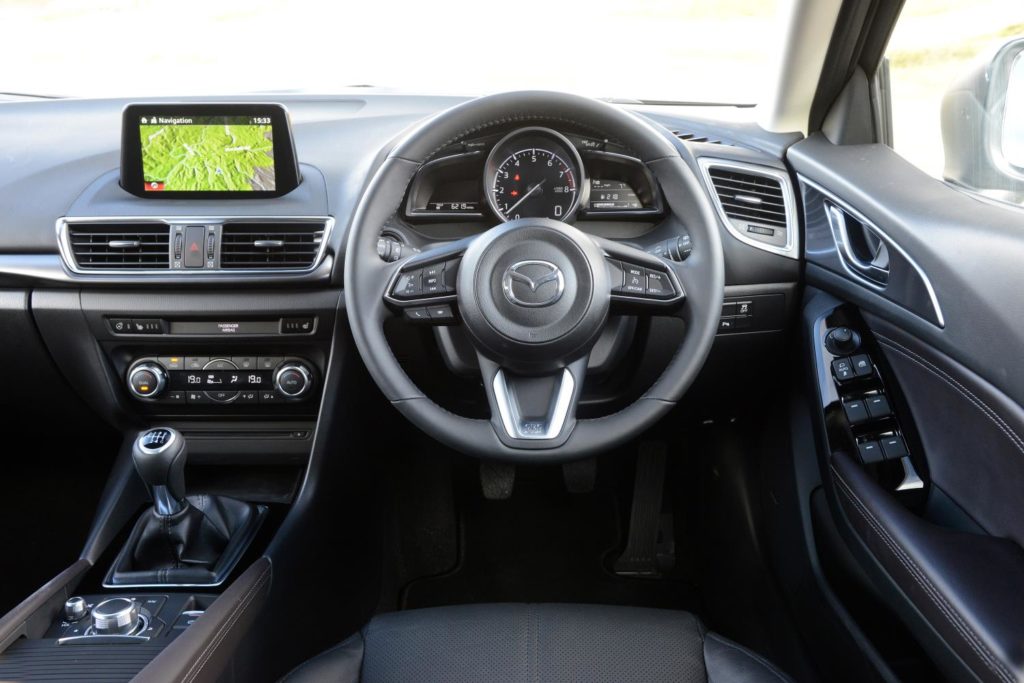 2017 Mazda 3 – Diesel
I sampled the Mazda 3 Hatchback 1.5 diesel 105PS in SE-L Nav trim on some awe-inspiring roads from Aberdeen to the Cairngorms. This Mazda 3 only discharges 99g/km of CO2 – and is therefore likely to be a fleet darling. For private buyers and leasers, it means there are no worries about forking out for road tax or congestion charging in cities, either. Furthermore, the average fuel consumption figure for this 1.5 diesel model is officially 74.3 mpg. On my route, I averaged 68.2mpg. That is an excellent real-world return.
2017 Mazda 3 – Traction
Mazda's new 3 is an utter joy to drive – especially along winding rural roads. Traction is vastly improved – and so is pulling power. This is due to Mazda's white-coat wizards who have enhanced handling by scrutinising steering inputs and the position of the throttle. Ultimately, the tweaking of tech rebalances the vehicle for you, giving the Mazda 3 far superior stability than ever before.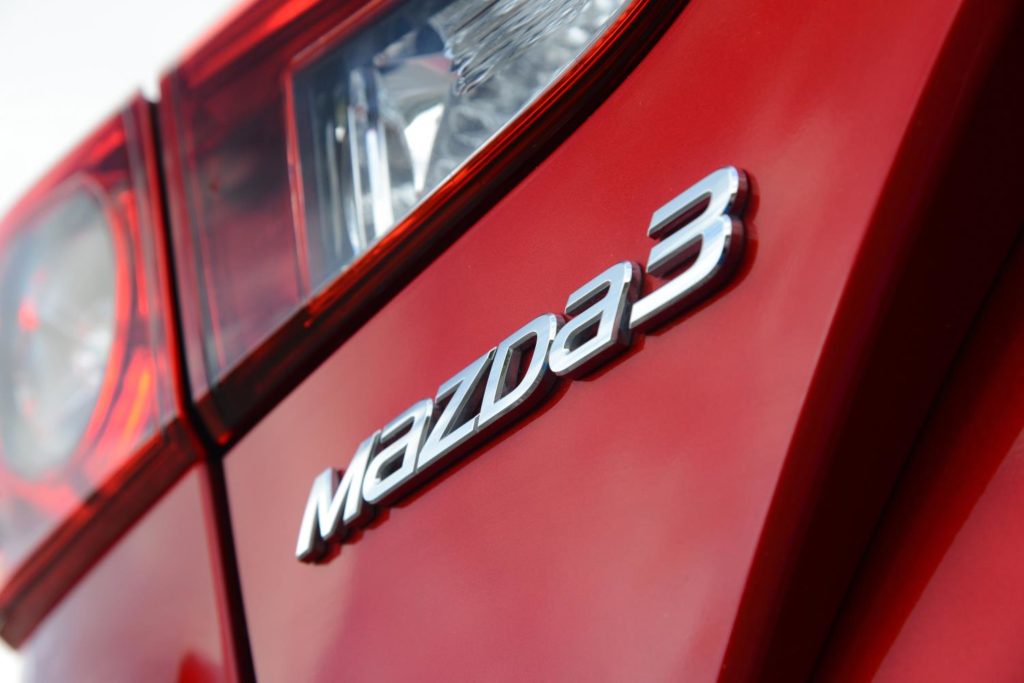 2017 Mazda 3 – Ride
The 300 miles of Scottish test roads weren't always coated with the best blacktop, so the Mazda 3's suspension took some pounding at times. Nevertheless, the 2017 Mazda 3's ride was always relaxed, and the new hatchback managed high-speed crests and furrows with assurance.
2017 Mazda 3 – Brakes
The new Mazda 3's manual six-speed transmission has brief, sporty throws, and the clutch is easy, adding to driver happiness. And, as I found out after ending up nearly kissing the backside of a cattle trailer following a particularly demanding hooning stint, the brakes are pin sharp.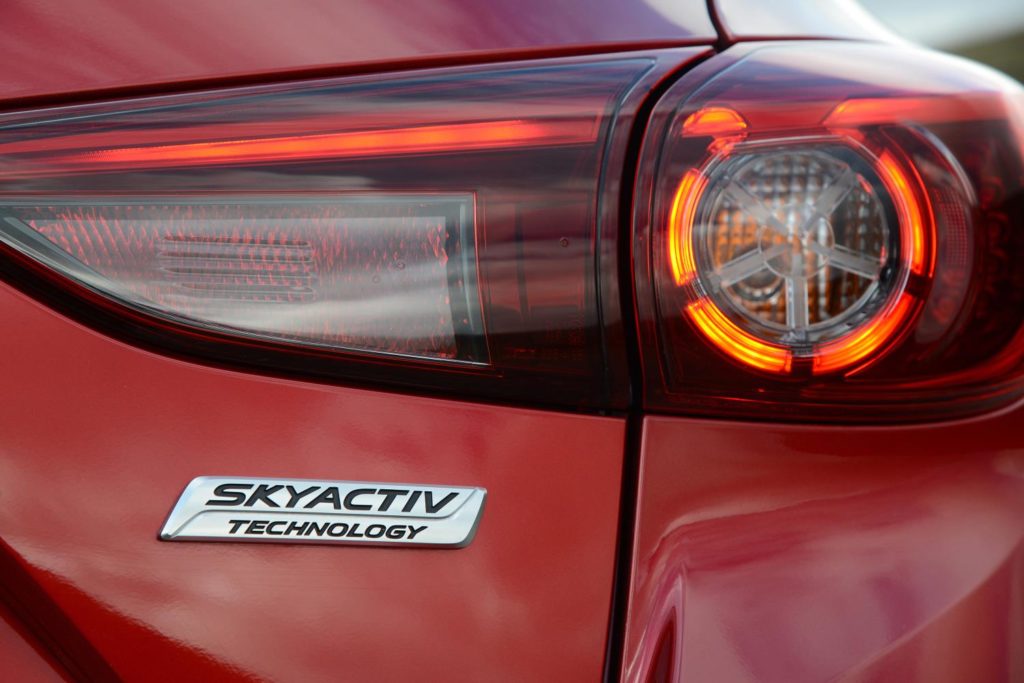 2017 Mazda 3 – Kit
The new Mazda 3 consists of three versions: SE Nav, SE-L Nav and Sport Nav. The higher up the range cars have more technology crammed in than before. This incorporates equipment, such as a first-class colour head-up display and adaptive LED headlights. There is also optional leather trim on offer, which really does add to comfort levels. The only negative I could find is that there's no spare wheel supplied as standard. That's hardly a deal-breaker, though.
2017 Mazda 3 – Verdict
The Mazda 3 has always been a good, solid, family car with sporty characteristics – and now, as we head into 2017, it's in better shape than ever. Prices for the new Mazda 3 begin at £17,595 with the top Nav Sport variant coming in at an affordable £24,195.
Pros 'n' Cons
Handling √
Comfort √
Efficiency √
Trim √
No spare wheel X
Fast Facts (1.5 SKYACTIV-D 105 SE-L Nav)
Max speed: 113 mph
0-62 mph: 11.0 secs
Combined mpg: 74.3
Engine layout: 1498cc 4-cylinder turbo diesel
Max. power (PS): 105
CO2: 99 g/km
Price: £21,195