WITH FUEL getting more expensive and budgets getting ever tighter the compact executive car is becoming increasingly popular for business users.
As with most high-status cars, the compact executive is designed to make driving and communicating a lot easier, as they are often focused towards business customers. A variety of environmentally and wallet-friendly versions are progressively more available, such as BMW's EfficientDynamics models, meaning you can save money on fuel and company car tax. Business Link takes a look at the top compact executive marques currently on the market:
Mercedes-Benz C-Class
The Mercedes-Benz C-Class is a fantastic option if you are looking for a business oriented car that mixes a comfortable ride with oodles of elegance.
Style is, of course, an important factor in any executive car, so it comes as no surprise the C-Class looks an upmarket machine, albeit in a conservative way.
There is ample room for four people and the C-Class cabin is an engaging place to be. The C-Class offers admirable specification levels and respectable running costs, particularly with diesel engines.
With a first-rate image and reputation behind it, and starting at only £25,075 for the 180 CGI BlueEFFICIENCY SE four door, the Mercedes C Class should not be disregarded.
BMW 3 Series
You have to have deep pockets to afford a new BMW 3-series. Even the most basic variety currently on sale – the 318i ES 4dr – will set you back a steep £22,690 – and that is before any options are added. Even so, the sought-after image and slow depreciation can actually make buying one an astonishingly sensible decision. While middle-of-the-road rivals battle to return a third of their value after three years of average use a 3-series should still be worth close to 60 percent of its initial cost.
The 3-series has been given a power boost over the old model but both fuel economy and CO2 emissions have been improved thanks to the 'Efficient Dynamics' programme. There is a good level of space inside the vehicle, with plenty of leg room in the rear, although, head room for taller passengers is quite restricted. All 3-series BMWs benefit from first class driving dynamics; razor-sharp handling and relaxed cruising is assured on all.
Audi A4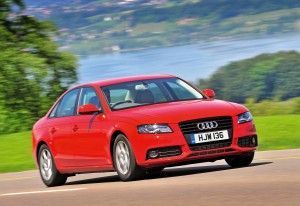 The Audi A4 is a terrifically multitalented car and better than the BMW 3 series in that regard although, debatably, it loses out on driver appeal.
The interior space has been improved in the A4 and, being a touch bigger than the Mercedes C Class, can easily accommodate five adults with bags of leg and shoulder room in the back. It is a superbly finished car and is lower priced than its rivals. Audi is also far more generous with equipment levels than BMW.
The A4 has a spacious boot and is noticeably more roomy than the BMW 3-series and Mercedes C-Class alternatives. It also has a top-notch cabin and a brilliant selection of engines. All this makes the Audi an excellent choice for anyone looking for a new executive-league company car. The range, starting with the 1.8 TFSI (120ps) four door, costs from £22,190.
Lexus IS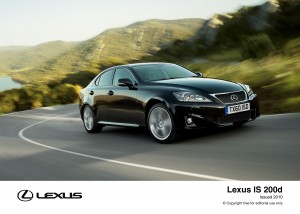 The Lexus IS 200d is just as refined as other, more costly, Lexus models; it features a chic interior and encompasses an awful lot of high-tech gadgetry.
The Lexus makes a great long distance cruiser with the driver and passenger enjoying plenty of leg and head room as well as supportive seats. However, in the rear, leg and foot room is somewhat poor for this sector of the executive car market. That said, if you buy a Lexus, you can rest-assured that you will be looked after, as the Japanese luxury car maker provides a tremendously capable after-sales service. Prices for the Lexus IS 200d SE-I five door start at £24,865.
Saab 9-3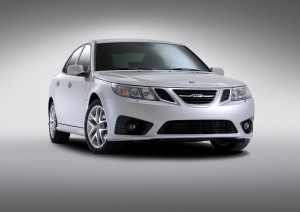 The Saab 9-3 offers something different from the majority of compact executive cars, with an air of unpretentious Swedish flair. It will appeal to people who want the luxury and quality of an executive car without the slightly authoritarian image of premium-badged German rivals.
Front passengers get ultra-supportive seats and an abundance of legroom which means long-distance commuting comfort. It is a shame that the same cannot be said in the back because leg room can be tight for taller passengers. Rear head room makes up for it though and three people can still fit in.
A good breadth of engines, a restful ride, and a decent amount of standard kit all combine to make the new Saab model good value for money. In fact, it is a very agreeable choice of car to go for in this sector because, as a car to cover serious distances, the 9-3 takes some beating. Prices are from £22,464, starting with the Turbo Edition 1.9 TTiD (130ps) 4dr.